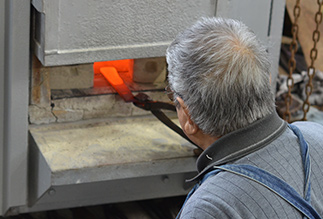 Takamura tillhör utan tvekan en av Japans mest förnäma tillverkare av handgjorda knivar i rostfritt stål. Smedjan ligger i staden Echizen (Takefu) i västra Japan. Där har den legat sedan andra världskriget och idag leds arbetet av tre söner som tillhör den tredje generationen smeder i familjen Takamura. Fadern, som nu är 80 år gammal, är fortfarande aktiv i produktionen och som vi kan se på bilderna varmsmider han bladen med enorm precision. Takamuras filosofi är enkel. Endast det bästa är gott nog och detta synsätt präglar alla delar av produktionen, från inköp av stål och trä till varmsmide, värmebehandling och slipning. Av den anledningen utförs alla moment av Takamura själva. Det finns inte några delar av produktionen som köps in av underleverantörer, något som annars är mycket vanligt bland japanska smeder. Noggrannheten i detaljerna är något som Takamura tar på största allvar och ingenting lämnas åt slumpen. Resultatet är en kniv som är helt kompromisslös i sitt utförande och alla som någon gång skurit med en takamurakniv känner igen den häpnadsväckande prestandan.


"But the knife is not the star. The chef is not the star either, not even the food is the star. It´s the satisfaction of the person eating the food that really matters. Satisfaction is the real star."
/Terakazu Takamura, 2015-04-08.


När vi besöker Takamura visar fadern och de två sönerna Hideo och Terukazu stolt upp sin smedja. Dom berättar ingående om hur dom varmsmider alla sina blad för att uppnå starka blad som håller skärpan länge. Långt ifrån alla kvalitativa knivtillverkare varmsmider sina blad. Stansade eller kallhamrade blad blir också bra, men för att plocka fram de allra finaste egenskaperna ur ett stål så behöver man värma och hamra ut klingan för hand. Takamura berättar entusiastiskt om alla delar av produktionen och dom är inte särskilt oroliga för att tillverkningsprocessens hemligheter ska läcka ut till konkurrenterna. Det går helt enkelt inte att kopiera deras arbete utan att ägna en livstid av hårt arbete och total hängivelse till smidet.