Artikelnummer: HINO-SKN210GY
Hinoura
Gyuto
alltid fri frakt
Blade length

19-21 cm
Bladlängd desc
Steel type
Aogami/Shirogami
Description
Gyuto knife with 210 mm long blade.
---
Weight: 182 gr
Thickness mid spine: 2 mm
Blade height heel: 50 mm
Edge length: 215 mm
Steel: Shirogami #2
Note: Each measurement can vary slightly. Its a hand made product.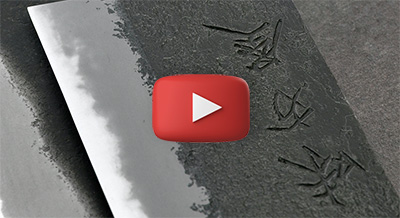 Ajikataya is the name of a series of knives made by Mutsumi Hinoura. His father, Tsukasa, is also helping out in the production but the main creator is Mutsumi. The steel is 3 layered steel with a core of shirogami#2 carbon steel, heat treated to about 63 HRC. The Hinoura family is already a legendary blacksmith family and their blades are known all over the world. All blades are hotforged by hand and nothing leaves the hands of Hinoura before the quality is top notch.
To finish off the design, each blade receives a silky smooth kasumi finish. Its a greyish surface between the edge and the black blade side.
The handle is octagon shape made from american walnut and black pakka wood bolster.
Note: Carbon steel is not stainless! Be sure to wipe the blade dry immediately after use to avoid rusting of the blade.
---
Disclaimer: Japanese knives have thin edges with high hardness. This makes them much more fragile than traditional european knives. These blades should under no circumstances be subject to twisting, prising or cutting into hard objects. Such handling could easily cause damage to the edge, something that is not valid ground for a warranty claim.
From 195 Euro
Free EU shipping